I understand that people are excited about the Super Bowl, and I know how serious sports fans are about their beloved teams. That being said, I'm still completely blown away by the idea of this lady having the Seahawks' 12th Man logo so boldly emblazoned on her skull.
Mckenzie Jane Brown, a hairstylist from Kennewick, WA, has apparently been a Seahawks fan since she was a kid, but she has unfortunately never been to a game. When she heard that radio station 98.3 The Key was having a contest offering two tickets to a divisional playoffs game between the Seattle Seahawks and the New Orleans Saints for best Seahawks-themed photo, Ms. Brown decided to enter. Having her husband, who is a tattoo artist, do the artwork, Ms. Brown proudly had the Seahawks' logo inked into left side of her head.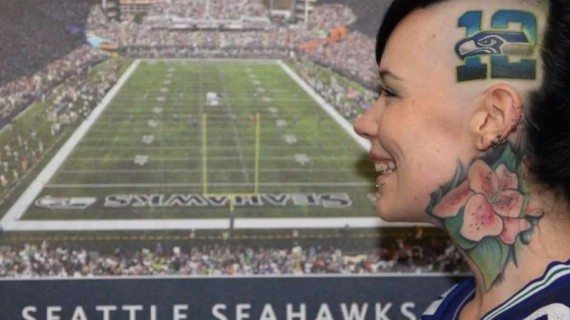 What's even more amazing? She came in second in the contest. She lost to a guy wearing a Seahawks-themed Batman costume. Apparently, nothing beats Batman even if he's just wearing a blanket.