The National Parks Service and the National Parks Foundation want you millennials out there to remember that they exist. Every year the National Parks get plenty of visitors, but most of those visitors are from older generations. In an effort to revive human life with the parks, the National Parks Service and the Parks Foundation have created a social media presence. That's right, folks; you can now see pictures of your favorite parks on Instagram, Twitter, and facebook. According to Neil Mullolland, President of the National Parks Foundation, "Looking at the continued relevancy of the parks, it was obvious we needed to bring awareness to a younger generation, to reintroduce the parks to those [who] have been enjoying them and to those who did not have an awareness of them."
Additionally, the National Parks Service and Parks Foundation have rolled out a new logo. In an attempt to clearly demonstration the relationship between the National Park Service and the National Parks Foundation, the new logo is essentially the same for both organizations; albeit the color scheme is a bit different.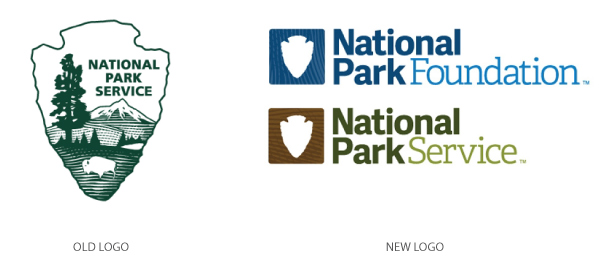 The revamped logo retains the iconic arrowhead of the former logo, and the woodgrain remains from a logo past as well, but gone, gone, gone is the friendly and enticing landscape that once reminded us that parts of our country are still beautiful and wild. Instead, the new logo attempts to appeal to millennials with its sleek, simplistic modernity. That's what millennials like, right. Frankly, I prefer the nostalgia of the old logo. The new logos are something less than ordinary.