You're standing in the snack food aisle at your favorite grocery store, holding a bag of a new brand of veggie chips that purports itself to be healthier than its competitors, trying to decipher the nutrition label. You know this is a profitless effort. You will inevitably eat the entire bag while you're stuck in traffic on your way home. But, hey, at least they're better for you than regular potato chips, right? I mean, at least these chips are made from vegetables. That's surely healthier, isn't it? Perhaps. Perhaps not. Who knows, really. Those nutrition labels are like reading a foreign language.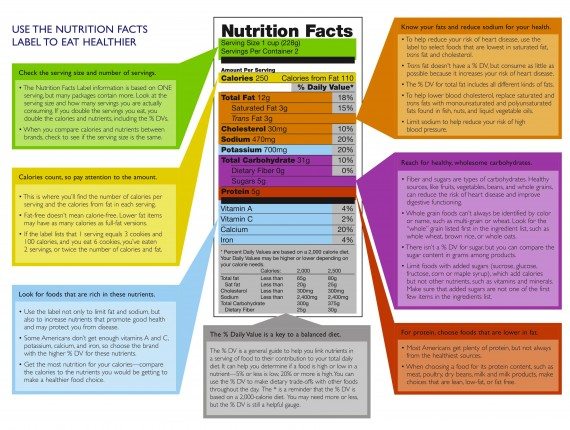 Well, for the first time in two decades, those nutrition labels are being overhauled. At the behest of First Lady Michelle Obama, the FDA is proposing some significant changes to nutrition labels. According to Mrs. Obama,"Our guiding principle here is very simple: that you as a parent and a consumer should be able to walk into your local grocery store, pick up an item off the shelf, and be able to tell whether it's good for your family. So this is a big deal, and it's going to make a big difference for families all across this country." The intention is to help make is easier for consumers to make healthier food choices by making it easier to decipher the nutrition labels on food packaging. Not only will the new labels be more understandable, they will also demonstrate the most current information in nutrition science. FDA Commissioner Margaret A. Hamburg asserts, "For 20 years consumers have come to rely on the iconic nutrition label to help them make healthier food choices. To remain relevant, the FDA's newly proposed Nutrition Facts label incorporates the latest in nutrition science as more has been learned about the connection between what we eat and the development of serious chronic diseases impacting millions of Americans."
There are more than half a dozen proposed changes, some of which are incredibly significant for the food industry. Among the changes, the new labels will include serving sizes that are more proportionate to what people really eat instead of the idealized serving sizes that currently appear on labels. The FDA states, "By law serving sizes must be based on what people actually eat, not on what people 'should' be eating." Companies will also be required to include information about "added sugars" in products. Furthermore, "Calories from fat" will be removed, but "Total Fat," "Saturated Fat," and "Trans Fat" will remain because, according to the FDA, "the type of fat is more important than the amount."
The new label could take up to a year or longer to make its way onto shelves; however, the major changes proposed have serious implications for food brands. The nutrition food label appears on hundreds of thousands of products in the United States, and it is used regularly by citizens to determine which products they purchase. This makes the nutrition label a valuable asset to the packaged food industry. Will companies be forced to increase the healthfulness of their products for fear of revenue losses? Or will we be seeing increasingly clever marketing, product, and package design as the new nutrition labels take effect?