You know the feeling: that sense of unease that creeps up after visiting a poorly constructed website. You've also no doubt experienced suspicion at the sight of a vague or confusing logo. While most folks understand that logos and a visible web presence are integral to brand building, they unfortunately also underestimate the importance of design in that process. A well designed logo or website can build immediate trust between you and your consumer base, and trust often leads to brand loyalty. You've got the product and the content – why hinder your success with dull or basic designs?
Choose a Thoughtful Logo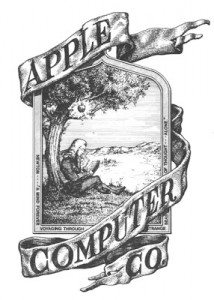 Your logo is often your introduction to the world, and effective logos are distinctive, appropriate and simple. A logo that captures the spirit of the brand is bound to intrigue and reassure the public, and a distinctive logo allows people to hold you accountable. When first choosing a design for Apple, Steve Jobs chose a complicated etching of Sir Isaac Newton under a tree with an apple poised to fall on his head.
The apple later became the focus of the design, representing curiosity, the pursuit of knowledge and maverick genius; its infamous bite a play off the computer term "byte." Speaking of the redesign in a 1981 press conference, Steve Jobs said, "The main idea behind the apple was to bring simplicity to the people in the most sophisticated way." Jobs' idea was immensely successful, and the iconic design has become a global symbol of trustworthy technology.
Let Your Design Speak For You
Effective web and graphic design further engages your viewers. When consumers are comfortable, they are more willing to take action. On its homepage, content management site Squarespace showcases a series of images featuring various site templates on several devices, each template representing different industries. With this simple yet elegant design, Squarespace conveys an inclusive and welcoming vibe. Plus, the slogan "Better websites for all" is in prominent type, boldly announcing the Squarespace mission statement. This upfront tactic paid off, as the site earned the company 2014 Webby Award for Best Visual Design.
Be Innovative
An easy way to cultivate trust with web design is to inject personality into your site. An "About" page is crucial, but feel free to go beyond a list of boring historical details. Project fundraising site Kickstarter implemented a scrolling tableau of its staff (https://www.kickstarter.com/team), each member's quirk on display. Comprised of six videos and a whopping four CSS files, the page is a fun and playful way to introduce the Kickstarter crew. The inclination to disclose and innovative spirit is a winning combination.